With an impressive collection of over 300 different label papers and films, we can achieve the exact feel you want for your brand, customising texture, colour and overall feel.
Specialist Label Printing
Our specialist printing partners produce high quality labels designed specifically for the eLiquid market. They are a UK leader in the field of printing, and hold ISO 9001 and ISO 14001 accreditation.
The combination of our Graphic Design & Branding service and our specialist label printers produces eye-catching labels for your products leaving lasting impressions on your target customer base.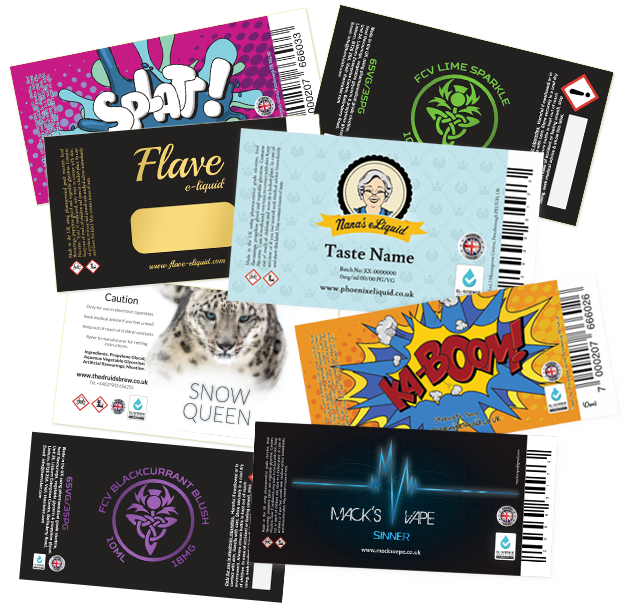 All our labels are manufactured at a dedicated labelling facility
We are able to offer CMYK+OVG
Our partners can manufacture multiple designs
You can choose from a vast array of quality materials
High End Printing Capability

Our label printing partners use the HP Indigo Digital Press, which is the latest in digital print technology, enabling them to print seven colours. They also use the latest EskoArtwork system; its three additional heads make it possible to offer spot colours and whites to print labels of the highest HD quality. We are thus able to offer CMYK+OVG, which is the closest method of printing to match Pantone colours.
They are able to manufacture multiple designs simultaneously. Each design may be completely unique and can even feature variable and sequential data.
Due to their in-house priming facility, we are able to offer a vast array of quality self-adhesive materials. These range from standard coated papers to synthetics (PP, PET, and PVC), metallic substrates and holographic materials.
We are also able to bring your labels to life with the addition of spot varnishes, metallic print and cold foil (such as gold, silver and holographic). The labels are provided with a gloss, matt or satin varnish. Alternatively they can be over-laminated for additional protection against wear and chemicals.
Using in house methodologies, our partners are able to create a number of constructions of multilayer labels. These can feature up to 5 pages printed in full colour, and are a great way to include necessary information on a small footprint.
We also provide flavour development and manufacturing services allowing us to offer a complete end to end solution, from the initial idea, to branding, manufacture, analysis & distribution of your product.