eLiquid analysis is fundamental in assuring eLiquid quality and safety. EL-Science offers a range of analytical solutions to meet your business requirements, from standard batch testing to TPD and PMTA-driven analysis.
Standard batch testing encompasses nicotine concentration confirmation and quantification of diacetyl and acetylpropionyl content. Our expert team of analytical chemists work alongside our consultant toxicologists to identify eLiquid compounds of potential toxicological concern, and to develop and validate robust analytical methods for the detection of these analytes in both the liquid and vapour form. We can also provide other useful batch quality data, such as product density, specific gravity, refractive index, and UV-Vis fingerprint spectra.
Our custom-built Analytical Laboratories are fully equipped with all instrumentation required to provide eLiquid and emissions compositional breakdown information for the TPD, as well as to perform nicotine dosing testing, metals analysis, thermal degradation profiling, aerosol particle size determinations, and flavour safety assessments. We can also provide leak free filling certification and product shelf-life testing. We aim to provide an effective solution to every analytical requirement of the TPD.

eLiquid and Vapour Analysis
Batch Testing
Flavour Safety Assessment
Chemical Composition
Toxicological Profiling
Thermal Stability
Thermal Degradation
Shelf Life
Particle Size Determination
Leachable Metals
Thermal Degradation Potential
Nicotine Dosing
Leak Free Filling
We understand that our customers are likely to have specific requirements. As such, we can provide bespoke analytical solutions based on your needs, in addition to our standard testing suites.
Searchable Online Analytical Reports
We can add the analytical data relevant to your eLiquids to our database, allowing your customers to search for and download the Analytical Test Report via the popular batch search feature on our website. This allows consumers to view your Certificates of Analysis by entering their eLiquid's batch number.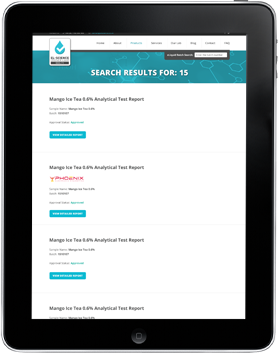 Only products which have been correctly manufactured and have passed our quality control and analytical criteria can display our Seal of Approval, which gives eLiquid consumers confidence in the safety and high quality of your product.
Our Analytical Laboratory is specifically equipped to provide a full analytical service to ensure that your eLiquid is compliant with Article 20 of the Tobacco Products Directive (TPD), which came into effect in May 2016. This analytical data is also purposely designed to fit with our Toxicological Health Assessment (eliquid THA) and Technical Dossier services so that we can provide the full TPD compliance service in one package.

Dedicated Business Development Manager
At EL-Science, we firmly believe in making sure that our clients are completely satisfied with our service.
To this end, no matter which service you choose, we provide you with a dedicated Business Development Manager who will get to know your business and be available to discuss and have as much (or as little) input into ideas as you need.